Tour Japan with Bicycles and EV Bikes
Rental bicycles and EV bikes are attracting attention among the diverse means of transportation available when traveling in Japan
With the increasing number of tourists to Japan, a wide variety of transportation options are available in Japan.
So, basically, you will have no trouble to move around.
However, there is a service for those who want to do a little more localized sightseeing.
In this issue, we will introduce sightseeing using rental bicycles and the latest EV (electric vehicle) bike rental service. Sightseeing by bicycle is suitable for touring tourist spots and exploring cities and is popular for its freedom of movement and new discoveries. EV bikes are also attracting attention as an environmentally friendly and convenient way to get around in cities with many hills.
Tokyo is famous for its many hills, known as "eight hundred and eighty-eight towns and eight hundred and eighty-eight slopes". Rental EV bikes are a convenient way to go up such slopes. Bicycles and EV bikes be available in Tokyo, Yokohama City, Kamakura, Kyoto, Osaka, Nara, Fukuoka, and Nikko. Consider sightseeing by bicycle according to your own tastes and circumstances.
EV Cycle Service Starts in Tokyo
Tokyo EV Bike Share, a new service under a joint project by the Tokyo Metropolitan Government and docomo Bike Share Co.
This announcement is aimed at meeting the needs of tourists using EV bikes by establishing a sharing service model for three-wheeled electric bikes and creating an environment that allows easy use of these bikes without having to purchase them.
To provide this service, users will be required to register a new Tokyo EV Bike Share account on the "Bike Share Service Application," which has been providing the shared cycle service, and to complete license verification and a traffic rule test before using the service. The same operation panel as that of the shared cycle service allows for easy rental and return of bikes. The service will be deployed at 3 ports in the Tokyo waterfront area with 20 electric 3-wheeled bikes, "GOGO!"
Since they are electric 3-wheeled bikes, they are stable and easy to drive.
Started date: May 29, 2023 (Monday),
Service Outline
(1) Hours of operation
24 hours a day, 7 days a week
(2) Usage fee
330 yen per 30 minutes
(3) How to use
Bike sharing service is available after registering as a member of "Tokyo EV Bike Share" through the Bike Share Service application, registering your driver's license*, and taking a traffic rule test.
*Commercial car driver's license maybe required an international automobile license.
(4) Ports where EV Bikeshare can be rented
Currently only 3 locations
Hilton Tokyo Odaiba (1-9-1 Daiba, Minato-ku, Tokyo)
Tokyo Big Sight (3-11-1 Ariake, Koto-ku, Tokyo)
Ariake Center Building (3-4-2 Ariake, Koto-ku, Tokyo)
There are complicated procedures such as application registration, driver's license, etc., so it is a bit difficult for overseas tourists to use this service.
But it is worth a try for those who are interested.
Advantages and Disadvantages of Using a Bicycle for Sightseeing.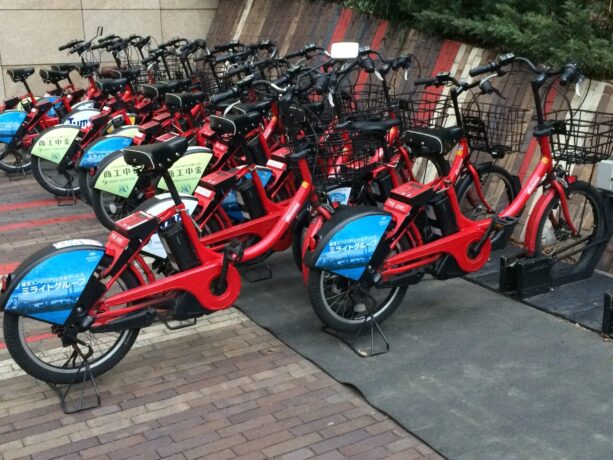 Advantages and Cautions of Using a Bicycle
Bicycles make it more convenient to get around in cities and tourist destinations. First, bicycles are less likely to get stuck in traffic jams and are less susceptible to road restrictions, allowing you to get to your destination without time constraints. In addition, bicycles are suitable for short-distance travel and are ideal for strolling within tourist areas and exploring cityscapes. In addition, bicycles provide a more intimate experience of the local atmosphere, allowing visitors to experience more of the local culture and scenery.
On the other hand, there are a few things to keep in mind when using a bicycle. First, it is important to obey traffic rules. Obey traffic signals and signs, and be sure to coexist with pedestrians and other vehicles.
Remind you again, please obey traffic signals.
Bicycles are also an attractive mode of transportation for travelers from abroad. While transportation is well developed in Japan's urban areas, and public transportation such as trains and buses are commonly used, sightseeing by bicycle is also recommended.
There are several advantages to using a bicycle. First of all, bicycles are an eco-friendly means of transportation. Because they are human-powered and do not use gasoline or electricity, they are considered an environmentally friendly and sustainable means of transportation. In addition, bicycles allow people to travel smoothly without having to deal with urban traffic congestion and parking problems.
In addition, bicycling has the added attraction of bringing you closer to tourist destinations. Since you can cover a wider area than you can on foot, you can visit tourist attractions more efficiently. In addition, you can enjoy the breeze and the cityscape that only bicycles can offer. In particular, tourist destinations such as Tokyo, Yokohama City, Kamakura, Kyoto, Osaka, Nara, Fukuoka, and Nikko are suitable for bicycle travel, allowing you to take your time to explore natural and historical sights.
However, there are some precautions that should be taken when using bicycles. First, the Road Traffic Law exists in Japan, and traffic rules apply to bicycles as well. You are required to obey traffic signals and signs, and to ride safely in shared spaces with pedestrians and other vehicles. It is also important to use designated bicycle parking areas when parking bicycles. Parking bicycles on the street is prohibited by law and violations may result in fines.
When considering sightseeing by bicycle, it is also a good idea to use a bicycle rental or bike sharing service. In Japan, many cities offer bicycle rental services, making it relatively easy to rent a bicycle. Recently, bicycle sharing services using smartphone applications are also increasing. These services make it easy to rent bicycles in tourist areas.
Bicycle rental and bicycle sharing services require advance reservations and registration, but are easy to use. You can check the location of the bike via an app or website and rent a bike at a designated location. After use, simply return the bicycle to the designated bicycle parking area, and payment is made at a later date by credit card or other means.
When sightseeing by bicycle, it is also important to pay attention to safety. Helmets should be worn, brightly colored clothing should be worn, and special care should be taken when riding at night or in the rain. In addition, since many Japanese roads are shared by cars and pedestrians, make every effort to ensure mutual safety with other traffic participants. In particular, please note that bicycles may be restricted on sidewalks and pedestrian-only streets.
Bicycle sightseeing provides an opportunity to experience more of Japan's scenery and culture. Please enjoy the charms of Japan to the fullest while utilizing bicycles as a free means of transportation.
Tokyo:
Tokyo is more advanced than other cities in Japan, as exemplified by EV bike sharing. It is making progress in providing rental bicycles to locals and tourists. Gradually, other cities are responding.
Sapporo (Hokkaido):
In Sapporo, there are bike rental spots throughout the city. They are especially popular around major parks and tourist attractions. You can visit Shiroi Koibito Park, Sapporo Clock Tower, Nakajima Park, and the Open-Air Museum.
Sendai City (Miyagi Prefecture):
There are many bike rental spots in Sendai City. They are available in major areas such as the Sendai Station area, Miyagi Prefectural Government Office, and the ruins of Aoba Castle.
Nikko:
Nikko has many natural and historical sites that are popular for sightseeing by bicycle. Rental bicycles are available around Nikko Station and near tourist attractions. Nikko city also has cycling paths and beautifully landscaped mountain roads that can be explored by bicycle.
Yokohama City:
Yokohama City also offers a bicycle rental service. Bicycles can be rented near Yokohama Station and at tourist attractions. There are also cycling paths and scenic coastal paths in Yokohama City.
Please see Community Cycle (Bicycle sharing)
One day pass costs you 2527 yen.
Kamakura:
Bicycles are also a popular means of transportation in Kamakura. Bicycle rentals are available near Kamakura Station and tourist attractions such as the Daibutsu statue and Tsurugaoka Hachimangu Shrine. Kamakura is a great place to explore by bicycle, as many areas are surrounded by nature.
One day pass 1660 yen for bike and 2150 yen for EV bike.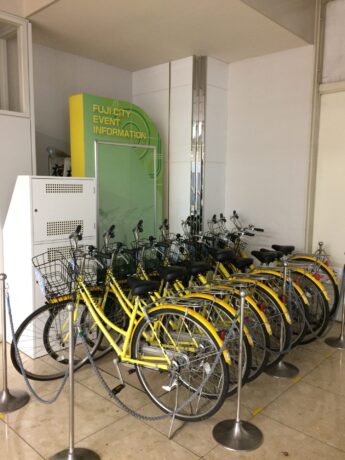 Nagoya (Aichi Prefecture):
In Nagoya, rental bicycles are offered around stations and parks. It is convenient to visit Nagoya Castle, Water Spaceship, Tokugawa-en Garden, and Toyota Commemorative Museum of Industry and Technology.
In addition, there are parks with cycle paths in the city, such as the Shonai River Bicycle Path and the End Wide Greenway.
Kyoto:
Bicycle sightseeing is also popular in Kyoto. Rental bicycles are available around Kyoto Station and near tourist attractions. Kyoto is dotted with historical buildings and gardens, and bicycles are an efficient way to visit many famous shrines and temples.
Osaka:
Bicycle rental services are also offered in Osaka. Bicycles can be used around tourist attractions such as Osaka Castle Park and the Umeda Sky Building. There are also bike paths and parks in some areas of Osaka City.
Nara:
Bicycle sightseeing is also popular in Nara. Rental bicycles are available in areas with a high concentration of tourist attractions, such as Nara Park and the area around Todaiji Temple. Bicycle tours through the streets of Nara allow visitors to interact with deer and enjoy cultural assets.
Hiroshima City (Hiroshima Prefecture):
There are several bike rental spots in Hiroshima City. Hiroshima Castle, Peace Memorial Park, and Miyajima Island (an island, so you will need to take a ferry) are just a few of the tourist attractions where you can use bicycles.
Fukuoka:
Bicycles are also available for sightseeing in Fukuoka City. Bicycle rentals are offered in Tenjin and around Hakata Station. Fukuoka City has well-developed bike paths and parks, making it easy to get around by bicycle.
Summary
Bicycle rental services are offered in these cities and tourist attractions, allowing tourists and locals to use bicycles to get around the area. In addition, bike paths and well-maintained bike trails exist, allowing people to enjoy cycling in a safe and comfortable environment. However, implementation in each area may vary depending on the time of year and conditions, so it is recommended to check specific information in advance.
These are just a few examples of bike rental services offered in several major Japanese cities.