General
Transportation is well developed in anywhere in Japan.
The train system is especially well organized.
Japan Rail Pass
This is really good deal for visiters to Japan.
The JAPAN RAIL PASS is a special ticket that is available only to travelers visiting Japan from foreign countries for sight-seeing. To be eligible to purchase a JAPAN RAIL PASS you must meet one of the following two conditions.
You are a foreign tourist visiting Japan from abroad for sight-seeing,under the entry status of "temporary visitor."
Please check the above site if you have an interest.
| | | | | |
| --- | --- | --- | --- | --- |
| Type: | Green | Green | Ordinary | Ordinary |
| Duration | Adult | Child | Adult | Child |
| 7-day | 39600 | 19800 | 29650 | 14820 |
| 14-day | 64120 | 32060 | 47250 | 23620 |
| 21-day | 83390 | 41690 | 60450 | 30220 |
Fare to Kyoto is 26,440 Yen by Hikari.
If you are going to visit more than two places like Kyoto, Osaka or Nikko, this would be really deal for you.
Link for Japan Rail Pass
From Narita Airport to Tokyo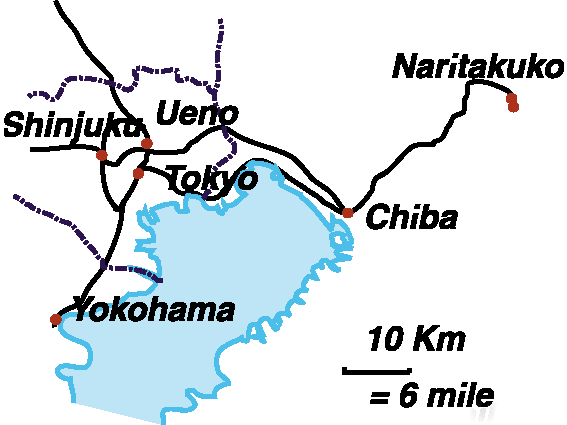 There are several ways to Tokyo downtown.
Narita Express
If you land in Narita Airport and
you know your hotel is located close to the JR Station,
Narita Express is the easiest way to downtown.
The trains bound for
Tokyo JR Station
Shinjuku JR Station
Yokohama JR Station.
Ofuna JR Station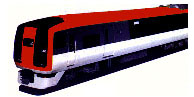 If you are carrying heavy language, Limousine service is recommended.
Your hotel may be far from the JR station with many stairs.
Fare for Downtown Tokyo from Narita airport by Narita Express.
| | |
| --- | --- |
| Destination | Fares (Yen) |
| Tokyo | 3.020 |
| Shinjyuku, Ikebukuro, Shinagawa | 2,990 |
| Yokohama | 4,090 |
"Limousine bus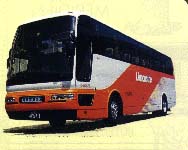 Limousine bus is a more economical way to your hotel. It takes you to the front of your hotel from the Airport.
It takes you to the major hotels directly.
If your hotel is listed on the route, you should use it.
Before you make a hotel reservation, it is one item which you had better to ask an operator.
For reservation of returning way, contact hotel bell captain or 03-3370-91156
There are several ways to your hotel. Check it at the Limousine bus counter.
Keisei Skyliner by Keisei
Best price if your hotel is located in Ueno, Nippori area
2,470 Yen 40 Minutes to Ueno.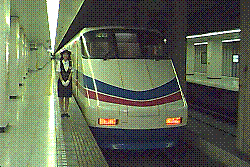 Also Express trains are available for Shinagawa and Haneda Airport.
Also if you can transfer to Yamanote line at Nippori, this is the cheapest way from Narita Airport.
For example, from Narita to JR Shinagawa Special express and JR costs 1190 Yen and 90 minutes via Nippori.
Taxi
Taxis tend to be a bit expensive, but if you are affordable, they are at your service from the airport to your hotel.
It may cost you more than 15,000 Yen from the airport to your destination in downtown in Tokyo.
If you are caught in traffic jam, it may take more than two hours and cost more.
Rental Car
Stop and think before you rent a car or unless you can understand the following traffic signs. Roads are full of these Japanese characters.
And more, you need to drive on the left side of the road.
Moreover, roads are full with thousands of pedestrians and bicycles.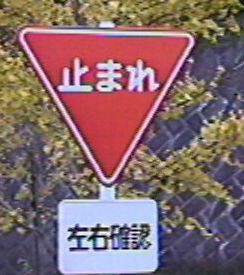 Narita Express, Skyliner and Limousine bus would be a good choice from Narita Airport to Tokyo.
General information of train system
There are three kinds of train systems in Japan. The first one is JR,( Japan Railways), which used to be under governmental operation and
currently, seven JR companies operate the train systems
in each region of Japan.
The second train system is private company operations.
Metropolitan areas like Tokyo have several train companies.
The third system consists of subway lines. Tokyo, Yokohama, Nagoya, Sapporo and Osaka have subway lines and
trains run downtown areas of big cities.
Subway
Eidan Chikatetsu (Subway) changed their name to "Tokyo Metro".

They have added new sign on each station.
The alphabet shows the line and the number means stattion name.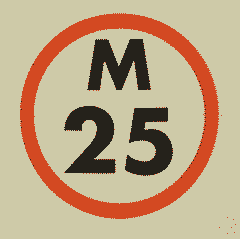 For example, M means Marunouchi line and 25 means 25th station. from west or south end
It becomes much easier to use subway system before.

Detail information for Tokyo metro,
this the Homepage address of Tokyo Metro.
http://www.tokyometro.jp/index.htm
Non-JR railways
Bus
Ticket vending machine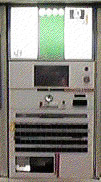 nsert coins then press the button which is listed on the price table.
If you don't know the right fare, just buy the lowest ticket and pay later.
Ticket type
Paper ticket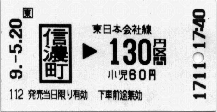 This is a sample of the JR (Japan Railways) ticket.
The left side shows the issued date and the center contains the original station name and paid fare.
The backside of this ticket is normally black or brown that means data is stored in the magnetic layer.
Suica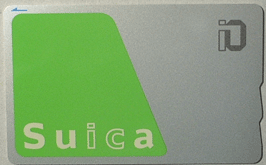 This is a sample of the JR (Japan Railways) IC Ticket.
It's called Suica.
IO card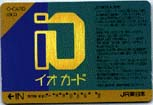 This is a convenient card for you if you use
JR, Japan Railroad, several times.
It is prepaid card.
Three types of IO card – 1000, 3000, 5000 Yen.
You can buy it at the ticket counter (you can ask for a receipt.)
or vending machine with this mark.
As long as the prepaid money remains you can use it.
Ticket gate
Almost all train systems are using the auto ticket gate.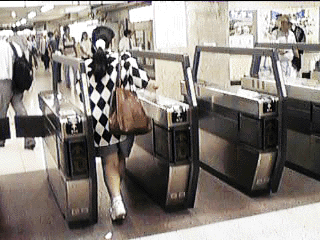 Enter:
This is an automatic ticket gate.
Just insert your ticket on your right side machine.
It will show up at the end of the machine. Pick up it
Exit:
Insert ticket then go through the path.
Your ticket will be in the machine.
If you have a transit ticket to another line, your ticket will pop up for your picking up.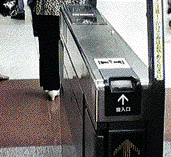 Japan has the best Railroad system.
You can go anywhere using JR (Japan Railroad).
JR Information Service Telephone: 03-3423-0111.
In Tokyo area, the trains run every 5 – 10 minutes.
Monday through Friday, 10 am – 6 pm (except national holidays)
Fare Adjustment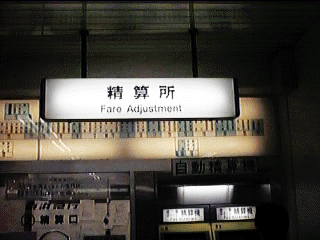 But
The system is sometimes very unfriendly to foreigners
such as the non-English fares table.
If you do not know how much to pay for your whole journey,
then buy the lowest denomination ticket.
When you reach your destination,
lookout for
the fare adjustment (machine)
You can pay the difference using this machine before you exit.
Train navigator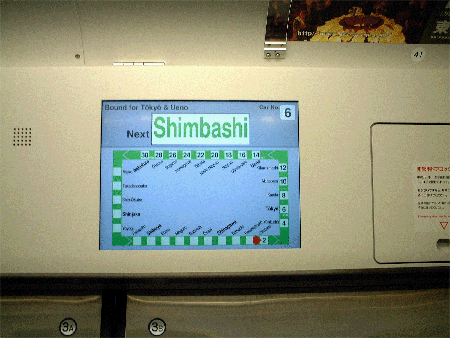 In the JR Yamanote line, you may find this high tech LCD panel over the doors.
It shows the next station and the entire root map of Yamanote line.
This system isn't installed on all of the Yamanote line trains.
If you can't find it, you have to check your location with your map.
Shinkan-sen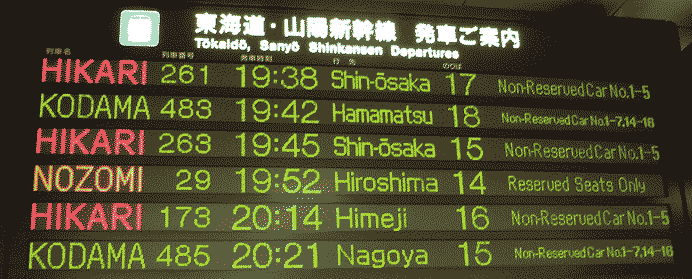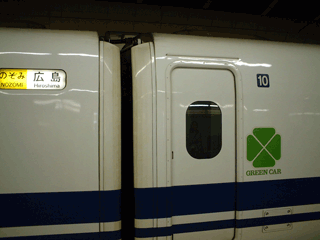 This green mark means this car is a Green car.
You have to pay the extra fare in addition to the normal fare.
Green car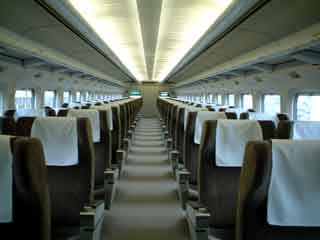 This is Green car of Shinkansen.
There are four seats in a raw.
The seat is much wider than normal car set.
The fare from Tokyo to Kyoto is 18,670 Yen.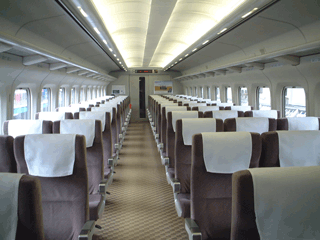 This is the regular car of Shinkansen.
There are five seats in a row.
The fare from Tokyo to Kyoto is 13,520 Yen.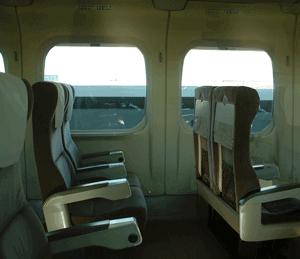 If you are travelling with your family, JR train sheet can be convertible to the face-to-face sheet.
Transportation Guide Site (Trains and buses)

This site is operated by Jordon.
Type in the nearest station and destination station and check arrival time or departure time, it will give you the best transportation way.
It is a really useful site to find transportation in Japan.