Introduction of new shop in Ginza
The opening of Daiso's flagship store in Ginza was big news.
Please refer to Daiso opened a store in Ginza
This is because Ginza is the main street of a large city in the world.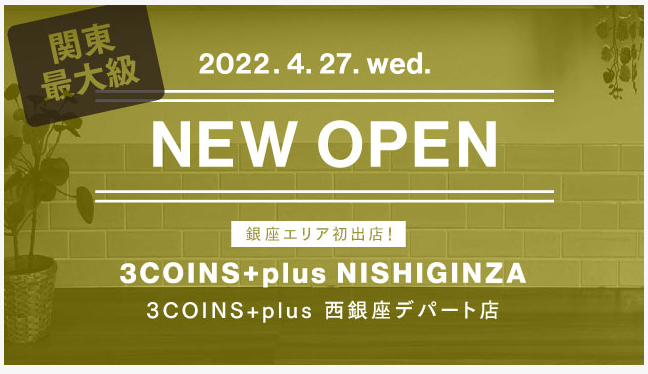 What is GINZA?
Here the main street means the most famous street downtown.
Here, the ranking of the world's main streets;
Hong Kong Causeway
New York 5th Avenue
London New Pond
Paris Champs Elysees
Milan Monte Polo Aus
Tokyo Ginza
Ginza is the city with the most luxury brand flagship stores in Japan along with other cities.
Along with the flagship stores of luxury brands, it was great news that a 100-yen store opened a flagship store in Ginza.
Now like Daiso, a 300-yen store, 3Coins opened in Ginza.
What is "3coins"?

3coins is a store that has a good reputation for offering products that are not sold in 100-yen stores and selling fashionable products.
3coins has now opened a store in Ginza, the first 3coins store in the Ginza area.
This is the first 3coins store in the Ginza area.
The "3COINS+plus at Nishi-Ginza Department Store" opened on April 27 (Wed.) and is one of the largest 3coins stores in the Kanto region.
As explained earlier, Ginza is told to have the most expensive land lease in Japan.
Ginza is an upscale shopping district lined with high-end boutiques.
This time 3Coins locates in the Nishi Ginza Department Store, just after getting off at JR Yuraku-cho Station to go to the main street of Ginza.
Concept of the store
The atmosphere of the 3Coins store is a little different from the usual 3Coins stores, with a slightly more relaxed atmosphere to match the geeky atmosphere of Ginza.
When you stop by Ginza, please enjoy a relaxing shopping experience at 3COINS in Nishi Ginza Department Store.
Products handled
A wide range of kitchen-related goods, bath-related goods, interior-related products, socks, accessories, etc.
Taking advantage of the large store, 3coins+plus seems to carry not only new products but also products exclusive to the large store, in addition to those carried in the regular store, so there are likely to be things you can only find here.
Window shopping alone is fun in Ginza, but the amount of items available for purchase here makes shopping in Ginza even more enjoyable.
Location
Nishi-Ginza Department Store 2F, 4-1 Ginza, Chuo-ku, Tokyo
Tel 03-3566-4167
Business hours: 11:00-20:00
*Business hours are subject to change depending on conditions of COVID-19.
SUMMARY
While the high-end boutiques in Ginza are nice, you can also go shopping for souvenirs at Daiso, 3Coins, etc.
Enjoy Ginza!