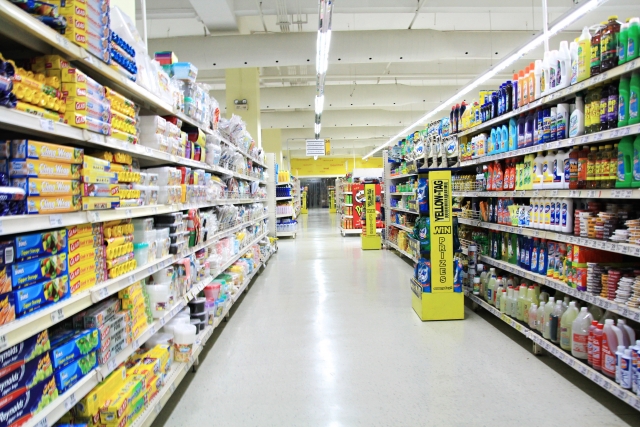 To save money to shop at supermarkets in Japan
Compared to other countries, Japan lags far behind in "digitalization. In particular, it lags behind in money-related matters.
Foreigners in Japan often have trouble with credit cards and other forms of digital payment.
In Japan, the kingdom of cash, cash transactions are considered the best, and electronic money is not expanding so much.
When you are sightseeing in Japan, shopping is fun. Visiting local supermarkets could be fun.
It is a delight to look at never-seen vegetables and unusual food at each destination of your trip.
You can buy food at the supermarket for dinner. The good thing about supermarkets is that you can buy good food at low prices, which saves you money a lot.
However, as you know, many stores "accept only cash" and Japan is lagging behind in "digitalization".
Unfortunately, there are still some stores that are "cash only". You need to be careful about this point before check-out.
Credit card
Although the number of stores that accept credit cards is increasing in Japan, the "cash usage rate at the cash register" is still very high compared to countries such as Korea, where "almost all card payments are taken for granted".
In some cases, especially in stores that claim to accept credit cards, only credit cards issued in Japan are accepted. In other words, they do not accept your credit cards from foreigners.
It is always better to have some cash with you.
You luckily find the supermarket to accept but you would be asked to enter the PIN of your credit card if you spend more than a certain amount.
This is the difference between supermarkets and convenience stores.
Convenience stores accept most payment methods, and credit cards issued overseas are also accepted.
Prices are lower in supermarkets. And they have a larger selection of each category.
The advantage of the convenience store is the way to pay.
Debit Cards
Debit cards are similar situation to credit cards.
It is difficult to find a place where you can use a debit card that is issued in your country.
It is possible in large national chain supermarkets, but unfortunately, it is not available in small local supermarkets.
Store Stamp cards
You may be given stamp cards or coupons, but this is unnecessary and should be declined.
Some stores issue their own stamp cards, and if you accumulate a lot of points, you can get a discount, or if you collect a certain amount of points, you can use them as a small amount of cash, but unfortunately, they are not designed for people from abroad who are staying for a short period of time.
Again, unfortunately, they are not designed for people from foreign countries who are only here for a short period of time.
Self-checkout
We believe that "self-checkout" has also become widespread in every country.
In Japan, there are still only a few supermarkets that have self-checkout systems, and the number of self-checkout systems installed is also small.
In many cases, self-checkout systems cannot be used without a store's own smartphone application, which can even be used to make payments.
Here again, we can clearly see the point where digitalization is lagging behind in Japan.
Unfortunately, you have to wait in long lines at cash registers that only accept cash.
10 items or less cash register (Express Lane)
This is a speedy cash register for people with a small number of items less than 10 items, which is often seen in the U.S. and other countries but is not so common in Japan.
This is a very helpful service when the number of items is a really small number, as it saves time, but not many supermarkets have this type of checkout system in Japan.
One yen coins Small change similar to "Take a penny, leave a penny"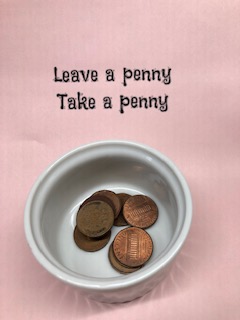 When shopping in Japan, there are times when you are short of one or two or three more yen when you want to pay in cash.
In American supermarkets, convenience stores or gas stations, a cup or tray containing several pennies is placed near the cash register, and when you are short, you can use a penny from the jar and pay.
We think this is a really good system.
However, in Japan, we have never seen such bottles or containers in stores, perhaps because of the idea that payment must be made in a proper amount.
It is a pity to hear that a cashier says "only cash is accepted", but don't even think of giving it to you when you are short by a yen or so.
You may have lots of Japanese coins in your pocket, but it is really inconvenient when you don't have a single yen.
Plastic bags
Plastic bags are hanging in front of the cash register, so you take what you need, put it in your shopping basket, and have it paid for together with your purchase.
You can choose from "large," "medium," or "small" bags, so please choose the one you want.
If you forget to buy a plastic bag, it is okay. Even after you have paid, you can go to the cashier, and they will sell you just the bags. "Cash only, please!"
The absolute best value for money.
Here is the most important part of this text.
When you find a supermarket near the facility where you are staying, here are some of the absolute best shopping deals.
Please refer to this document when you are shopping at the supermarket.
Drinks
 In a supermarket, you can buy drinks at about half the price of vending machines, which means you can buy two bottles for the same price.
Also, you can buy large bottles, such as large 2-liter size bottles, so if you drink a lot, supermarkets are recommended.
There are many varieties, so that is also attractive.
Aluminum can 250ml, 500ml
Plastic bottles 500ml, 1000ml, 2000ml
You can't find Dr. Pepper in a vending machine but you can find it in a supermarket.
You can buy alcoholic beverage anytime. You may be required to show your id.
Dinner
If you are trying to save money in Japan, it is wise to buy things like dinner. The best place to shop is at a supermarket.
Convenience stores also sell some items, but the variety is different.
If you have a supermarket nearby, you should go there.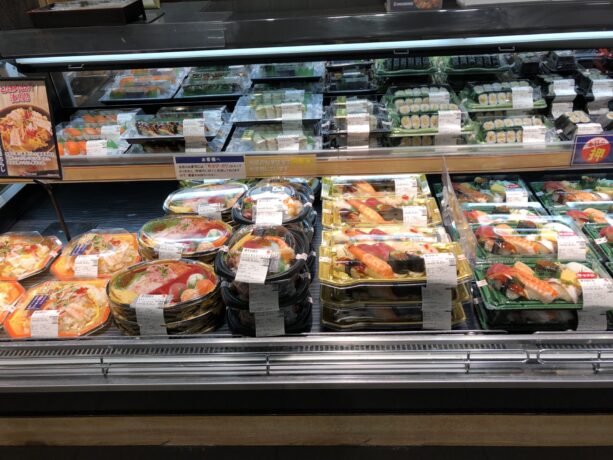 Bento There are a variety of bento available. You can choose the one you like.
Pasta They sell several kinds of pasta. If you buy a salad to go with it, you will have a great dinner.
Side dishes Salads, French fries, fried chicken, croquettes, pork cutlets, and many other side dishes are available.
Sushi  Sushi is Not exactly the same as the counter at a sushi restaurant, but they do sell several different sushi sets to suit any budget. Sorted sushi is available. The price ranges from about 500 yen to about 1500 yen.
 Yakitori (grilled chicken) This is also recommended. You can buy your favorite one by one.
You can choose from several kinds to about 10 kinds, such as liver, skin, negima, kawa, gizzard, meatball, thigh, breast, chicken wings, soft bone, heart, and so on.
 Many are self-service, so you can put what you want in a plastic container with tongs and take it to the check-out register.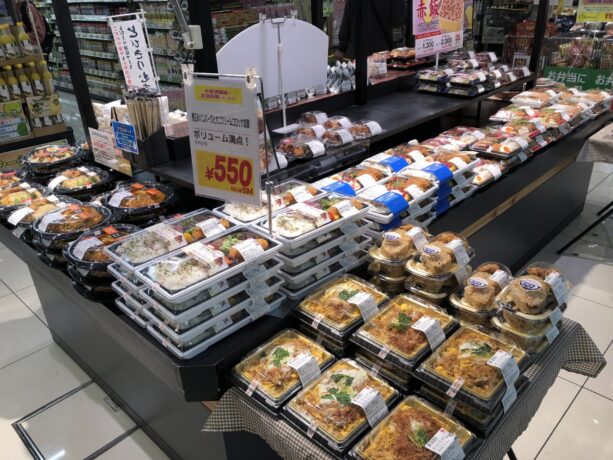 If your hotel or other accommodations have a microwave oven, this is a good idea.
 They sell margaritas and other pizzas and others.
 There are many delicious fruits in Japan, such as tangerines, bananas, pears, strawberries, persimmons, grapes, and so on.
 A knife is useful. We recommend the plastic knives that come with in-flight meals on airplanes, as they are very sharp. It is a good item to ask the flight attendant to get an extra unused one. Do not bring home metal knives by mistake.
Pineapples, apples, and other pre-cut fruits are also available, so if you don't have a knife, this item is for you!
 Fruit cups, some of which are tailored to look like fruit punch.
Summary
You can buy various foods in supermarket in Japan.
You can save money and enjoy delicious foods of Japan.
Please try supermarket in Japan!