Introduction
Spring in Japan is said to have "three cold and four warm days".
This means that three cold days are followed by four warm days. In other words, it means that after a cold winter, cold and warm days gradually alternate with each other, and then the weather warms up and spring arrives.
This is the time of year when nature's activities in the forests and mountains become more active, starting with the blooming of the plum blossoms, followed by the gradual appearance of various flowers, the blooming of cherry blossoms, and the budding of new leaves.
Cherry blossoms in 2023
This spring is expected to be warm and the cherry blossoms will bloom early.
The Japan Meteorological Agency forecasts the cherry blossoms every year.
The forecast for the cherry blossom bloom in 2023 (3rd forecast) is expected to be even earlier.
March is expected to be the warmest month of spring from the beginning of the month, and the blooming forecast is even earlier than the previous forecast (released on February 16).
The top bloom dates in Japan are expected to be March 14 in Fukuoka and Kochi, and March 18 in Tokyo.
In addition, the Japan Weather Association has also issued a forecast for the full bloom of cherry blossoms.
A bloom forecast means that 5 – 6 cherry blooms on the specific cherry tree near the Japan Meteorological Agency office are observed for the first time.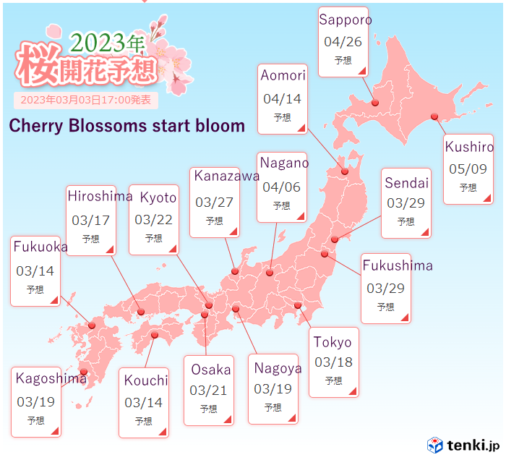 A forecast for the full bloom of cherry blossoms is recognized to be in full bloom.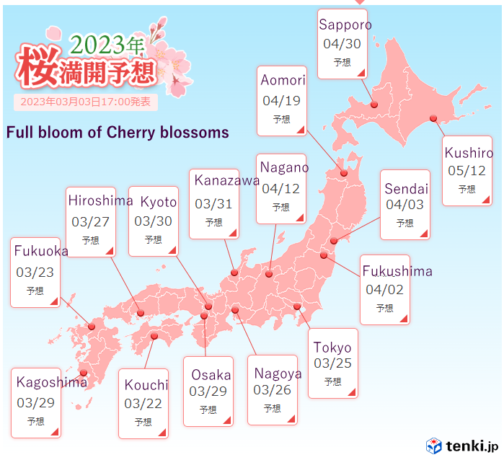 It is the perfect time to see the cherry blossoms that is really beautiful.
Summary
Spring is a good time to visit Japan for travelers
We hope everyone can visit when Sakura (Cherry blossoms) is in bloom.
Original data: Japan Weather Association
Chart is modified by kanaday.com. The original chart is designed by Japan Weather Association.
All copyright belongs to Japan Weather Association.