News

 Another fun, inexpensive place to shop in Tokyo.
This time, it locates Ikebukuro.
Ikebukuro used to be a battleground area for department stores, with Shinjuku, Shibuya, and Ikebukuro all closing their doors, and there has been much talk about what will be in the Tobu Department Store's Ikebukuro.
The features of this Daiso store are
 Location directly connected to JR Ikebukuro station
 The largest sales floor area in the Kanto region
 Development and sales of collaborative products with Nippon Kodo and other companies
Daiso has been opening stores with larger floor space, and this store will be one of the largest Daiso stores in Tokyo.
The three-brand flagship store opened on February 22 at the Tobu Department Store's Ikebukuro flagship store. Daiso has three brands, and Daiso has gathered all three in one location.
The Ikebukuro Tobu Department Store had been undergoing internal renovations since it ceased to be a department store, and these renovations have now been completed.
What's three brasnds of Daiso?
A brief description of the three brands is as follows
 DAISO, which handles daily necessities full of ideas to make life more enjoyable
 Standard Products," which offers a sustainable product lineup that connects domestic producers with consumers;
 THREEPPY, which adds color to daily life with trendy colors.
These three brands will be gathered on the same floor to make shopping easier for consumers.
Through this exciting shopping experience, you will be able to enjoy the thrill of "Oh my God, there is all this stuff at a hundred-yen store! and contribute to the enrichment of everyone's life through an exciting shopping experience, and to create a sales floor that will become a "trendsetting base" by taking advantage of its convenient location directly connected to JR Ikebukuro Station.
DAISO brands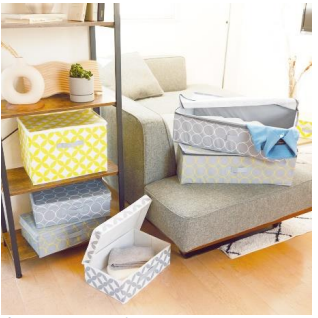 The total sales floor space of the three brands is one of the largest in Tokyo, and the easy-to-shop store features new products in popular categories such as greenery, interior, cosmetics, and characters. The store has an assortment of products that are "good deals!
– One of the most popular activities in Japan is Oshikatsu.
Oshikatsu is an Activity that involves supporting and promoting a favorite idol or character in various ways, such as attending concerts or buying merchandise.
This time, Daiso aims to be the store that is strongest in Oshikatsu.
As Ikebukuro is the center of manga, music, and subcultures, DAISO's first "Oshikatsu" sales floor will feature a collection of "Oshikatsu" colors.
What is "Standard Products"?
Standard Products is a brand that responds to the growing need for high-quality, comfortable products that can be used for a long time, based on the concept of "a little better is always better," which is a new trend in Japan.
Standard Products offers new lifestyle goods that are carefully selected for their origin and quality.
Prices vary depending on the product, with the center priced at 330 yen.
Prices range from 110 yen, 220 yen, 330 yen, 550 yen, 770 yen, and 1100 yen.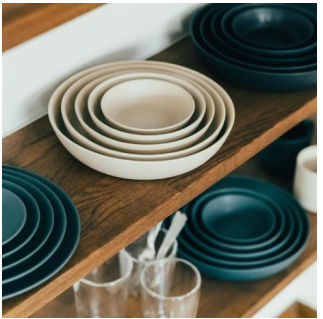 Standard Products Recommended New Products
Japanese incense is popular overseas and makes a great souvenir.
They are inexpensive, lightweight, and can be placed in the corner of a suitcase, making them favalable souvenirs.
This time, Daiso sells products in collaboration with Nippon Kodo, a company that creates fragrances based on traditional techniques handed down for 440 years since its establishment, at the Ikebukuro Tobu Store.
The products will be domestically produced incense manufactured at the Tokyo Main Fragrance Laboratory in Ikebukuro.
The five fragrances are traditional Japanese incense types and feature original packaging in contrasting colors. With a burn time of approximately 10 minutes, they can be used easily when you want to relax. At the same time, an incense stand made from thinned wood will also go on sale.
Scent: 5 types (lavender, vetiver, sandalwood, geranium, lemongrass)
Contents: 20 sticks
Price: 300 yen each (330 yen including tax)
What is THREEPPY?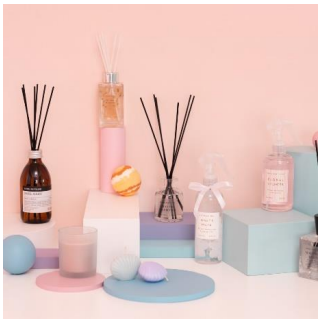 "It's like cute. And it fits good on me. The brand is based on the concept of "cute and want-to-be-myself". The brand offers accessories, interior goods, tableware, and fashion sundries in dull, trendy colors such as gray, pink, and mint.
About 90% of the 2,400 items are original products, and Daiso aims to make all of them original in the future.
The price is based on 300 yen(plus tax), as many of the items here are good quality.
Summary
Store information
Business hour; 10:00 – 20:00
Address:
8F Tobu Department store Ikebukuro, 1-1-25 Nishi Ikebukuro, Toshimaku, Tokyo
Related article
A 100-yen store has opened in Ginza, right in the middle of Tokyo.