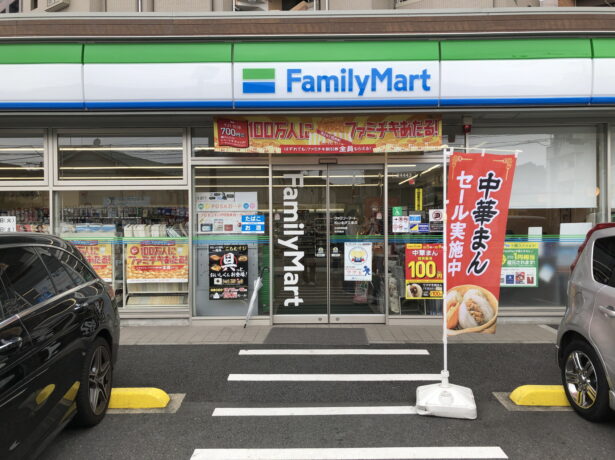 Money Vending machine at FamilyMart (one of convenience stores in Japan)
As you may know, there are so many vending machines in Japan.
There are vending machines that exchange your currency into Japanese yen. When you are walking around on a trip in Japan and your money is getting lesser, you may feel a little bit nervous. At that moment, some FamilyMart stores have automatic foreign currency exchange machines. This is a service that can be very helpful in such cases.
As a general reminder for vending machines at FamilyMart.
The bills must be clean and tight. no wrinkle.
Please note that wrinkled bills will not be accepted by the machines.
Only notes can be exchanged.
24 hours
How to get Japanese Yen at FamilyMart
They are located in FamilyMart stores near tourist attractions/sight-seeing points in Tokyo, Kyoto, Osaka, etc. You can easily exchange your foreign currency into Japanese yen at FamilyMart stores. (Foreign notes can only be exchanged into Japanese yen.
Thsi service is operated by Travelex Japan.
Locations of the FamilyMarts with Exchange machine
FamilyMarts in Tokyo
Asakusa Kaminarimon dori 1-5-3 Asakusa, Taito-ku, Tokyo
Asakusa Kaminarimon mae 1-2-1 Asakusa, Taito-ku, Tokyo
Komagata 1-chome 1-12-14 Komagata, Taito-ku, Tokyo Nihon Seimei Asakusa Building 1st floor
Shinjuku 5-chome 5-18-14 Shinjuku, Shinjuku-ku, Tokyo
Shinjuku Shokuan dori 1-12-1, Okubo, Shinjuku-ku, Tokyo 2nd Korea Square Building
Shinjuku Yasukuni dori 5-17-13 Shinjuku, Shinjuku-ku, Tokyo Oriental Wave Building
Nishi Asakusa 1-chome 1-8-13 Nishiasakusa, Taito-ku, Tokyo
Henna Hotel Tokyo Asakusa Tawaramachi 3-19-8 Kotobuki, Taito-ku, Tokyo
FamilyMarts in KYOTO
Kawaramachi Sanjo Sanjo Building, Kawaramachi, 437 Ebisucho, Nakagyo-ku, Kyoto-shi, Kyoto
Kawaramachi Takoyakushi 295 Naraya-cho, Kawaramachi-dori, Takoyakushi, Nakagyo-ku, Kyoto-shi, Kyoto
Gion Shirakawa 77-5 Sueyoshi-cho, Higashi-iri, the second line up Shijo-dori, Yamatooji-dori, Higashiyama-ku, Kyoto-shi, Kyoto
Kyoto Eki mae 849 Higashishiokoji-cho down Higashinotoin-dori Shiokoji, Shimogyo-ku, Kyoto-shi, Kyoto
Kyoto Tower mae 730, Higashishiokoji-cho, 2-chome, Shichijo-dori, Higashinotoin-dori, Shimogyo-ku, Kyoto-shi, Kyoto
Shijyo Kawaramachi Nishi 585 Nakagyo-ku, Nakagyo-ku, Kyoto-shi, Kyoto
Shijyo Kiyamachi Kita 222 Nabeya-cho, Nakagyo-ku, Kyoto-shi, Kyoto Tsuda Building
Shijyo Kiyamachi Minami 119 Saitocho, Shijo-dori, Shimogyo-ku, Kyoto-shi, Kyoto
Shijyo Hanamikoji 573-4, Gionmachi Minamigawa, Higashiyama-ku, Kyoto City, Kyoto
FamilyMarts in Osaka
Amemura sankaku kouen mae 2-18-6 Nishishinsaibashi, Chuo-ku, Osaka-shi, Osaka
Kawarayamachi 2-chome 2-16-2 Kawarayamachi, Chuo-ku, Osaka-shi, Osaka
Kuromon Ichiba mae 2-3-8 Nipponbashi, Chuo-ku, Osaka-shi, Osaka
Shimanouchi 2-chome Chuo-ku, Osaka 2-4-19 Shimanouchi, Chuo-ku, Osaka-shi, Osaka
Sennichimae 1-chome 1-9-7 Sennichimae, Chuo-ku, Osaka-shi, Osaka
Namba 1-chome 1-7-10 Namba, Chuo-ku, Osaka-shi, Osaka
Nihombashi 1-chome 1-5-10 Nipponbashi, Chuo-ku, Osaka-shi, Osaka JOLLY Building 1F
Minamisenba 2-chome 2-7-16 Minamisenba, Chuo-ku, Osaka-shi, Osaka
Hotel Royal Classic Osaka 4-3-3 Namba, Chuo-ku, Osaka-shi, Osaka
Links Umeda 1-1 Ofuka-cho, Kita-ku, Osaka-shi, Osaka