Lawson's Money vending machine
Since cash is still mainly used in Japan, you may find yourself in urgent need of Japanese Yen while traveling in Japan. Like FamilyMart, Lawson convenience stores also offer foreign currency exchange services.
In addition to ATMs that accept credit cards, bank cards, etc., some Lawson stores also have foreign currency exchange machines!
I love Lawson!
Isn't it great? Lawson! Lawson convenience stores also offer foreign currency exchange machines to convert foreign
currency into Japanese yen.
Since 2017, Lawson has been offering foreign currency exchange machines at only five Lawson stores for the convenience of foreign visitors to Japan and those who want to exchange their excess foreign currency.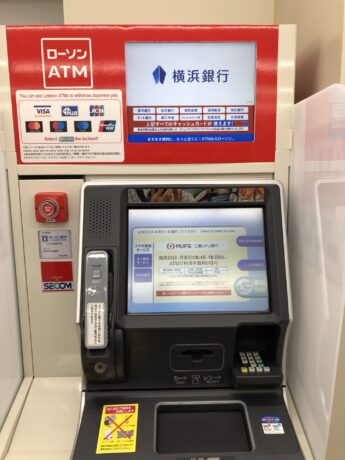 Locations of Lawson Money vending machines
| | |
| --- | --- |
| Location | Address |
| Tsukiji store | 4-chome 4-8-1 Tsukiji, Chuo-ku, Tokyo |
| Shinjuku 3-chome store | Chuo-dori 3-34-11 Shinjuku, Shinjuku-ku, Tokyo |
| Jingumae store | 4-chome 4-29-3 Jingumae, Shibuya-ku, Tokyo |
| Dazaifu Tenmangu-mae store | 1-14-22, Dazaifu, Fukuoka |
| Kintetsu Nara Station store | 3 Higashimukonakamachi, Nara City, Nara Prefecture |
Available currencies
US Dollar
Euro
Australian dollar
Chinese Yuan Renminbi
Hong Kong Dollar
Singapore dollar
Thai Baht
Canadian dollar
Korean Won
New Taiwan Dollar
British Pound
Philippine Peso
Malaysian Ringgit
The above 13 currencies can be converted into Japanese Yen 24 hours a day.
ATM manners
As usual, only paper money(notes) can be exchanged.
In many cases, they will only accept clean, pinny bills.
Since there are few clean US dollars, US dollars might be difficult to exchange to Japanese Yen by these types of machines. It is important to have clean bills with you.
Also, bills from a bifold wallet because the bills are folded. This is not recommended.
A flat billfold, which holds bills flat, is an appropriate wallet.
Related information