Only gorgeous stores in Ginza?
The first store in the Ginza area of Chuo-ku, Tokyo, "Okay Ginza Store" opened on Tuesday, October 17.
The store is located at the commercial facility "Marronnier Gate Ginza 2" (3-2-1 Ginza, Chuo-ku, Tokyo) in Ginza, Chuo-ku, Tokyo.
Marronniergate Ginza 2, where the new Okay Ginza store will be opened, is where Fast Retailing Co., Ltd. operates UNIQLO TOKYO, the global flagship store of UNIQLO, as well as GU., PLST, Theory and other group brands.
The location is very accessible and convenient.
OK will open stores on the B1F and B2F of Marronniergate Ginza 2.
This is the first store to open in Chuo Ward, and the combined sales floor space of the two floors will be over 1980square meter(over 20000 square feet).
OK STORE, which operates more than 130 stores mainly in the Tokyo metropolitan area and three prefectures in Kanto area, is a food supermarket with the motto "High Quality, Everyday Low Price".
Through the opening of the store in the high-profile Ginza location, they aim to make the store widely available to local residents, nearby business customers, and customers who come to Ginza for shopping or on their way home from work. They further promote their management policy of "High Quality, Everyday Low Price" in order to please many customers and further increase the number of ardent OK store fans.
The store is attractive to experienced visitors to Japan who want to see the lifestyle of ordinary Japanese people, which is very popular these days.
It is a full-fledged supermarket, selling vegetables, fruits, meat, fish, and other daily necessities, of course.
It is fun just to look at these items in the store.
The lunch box section is fascinating.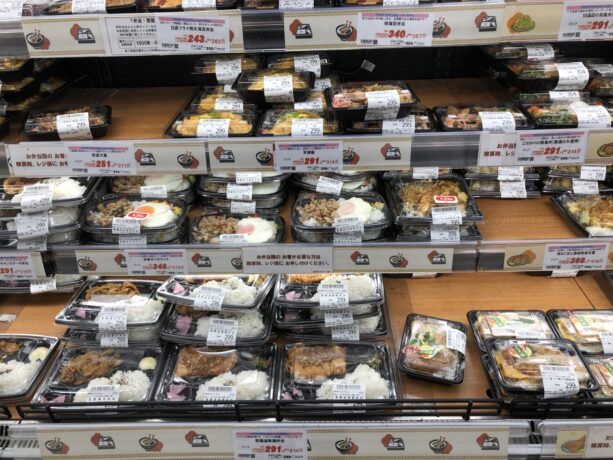 By comparison, the more intriguing places are the bento and bread sections.
Bentos (lunch boxes) at OK stores are quite inexpensive compared to other supermarkets and other convenience stores and are very popular among money savers .
Convenience store bento is also appealing but OK stores attract people with more variety and cheaper prices.
There is also a sushi section with surprisingly low prices.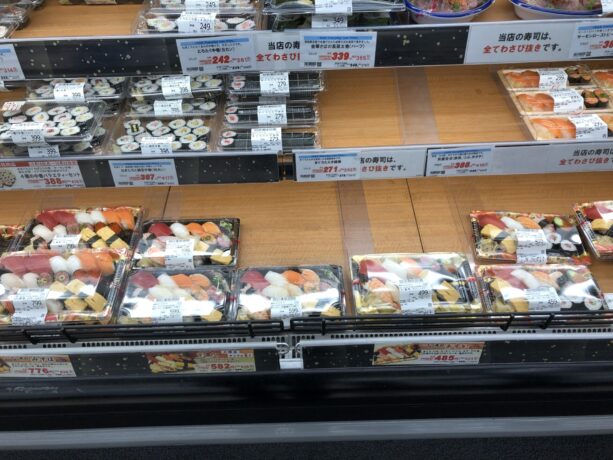 The Ginza store is said to have more premium items than other stores, considering its location and clientele in Ginza.
It is worth a peek.
The bread corner is also great!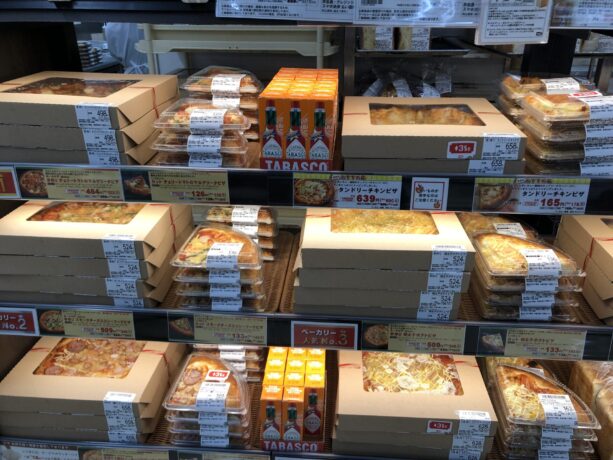 The bread corner is another attraction, offering a wide variety of delicious breads just like a bakery.
The bread with raisn is also well known and is unrivaled by other stores in terms of size and the amount of grapes in it.
Grape bread usually contains only one type of star grapes, but OK's grape bread is a four-grape bread, meaning that it contains four types of grapes, including regular dried grapes and others.
It is also amazing that the store can sell this grape bread for 180 yen.
The beef cutlet sandwich is another attractive bread. This sandwich has a delicious-looking pork cutlet sandwiched in between.
The bread section also sells pizzas in the same section, and at about 150 yen for a quarter slice, it is a very good value.
The store also offers a variety of other products that are affordable and accessible.
They are handmade in the store and freshly baked daily.
There are always 5 to 8 kinds of pizzas on the line, and the price of whole size is very reasonable at around 500 yen each.
Unlike frozen pizzas, the thickness and amount of cheese and ingredients are impressive.
With this, you will be ready for dinner.
This is perfect information for you, the money saver who says traveling in Japan is expensive.
Other stores in Ginza
Ginza is full of other attractive stores.
From luxury stores such as brand flagship stores to Daiso, a 100-yen shop, there really is a wide variety of stores.
Just walking around is fun.
Ginza is also quite a distance from one end to the other.
If you have limited time, it is a good idea to do your research before you go.
Okay shop store overview
Name Okay Ginza store
Opening date Tuesday, October 17, 2023
Address Marronniergate Ginza 2, 3-2-1 Ginza, Chuo-ku, Tokyo 104-0061
Nearest station Tokyo Metro Ginza Station (Ginza, Marunouchi and Hibiya Lines) 2 min. walk C9EXIT
3 min. walk from Yurakucho Sta. on JR Keihin-Tohoku Line and Yamanote Line
Sales floor area 2140.40 m2 / B1F and B2F including Okay Ginza Store Pharmacy (dispensing pharmacy)
Business hours: 8:30 a.m. to 9:30 p.m.
What is OK Supermarket?
O.K. Supermarket is a discount grocery supermarket with the slogan "High Quality, Everyday Low Price.
It operates 144 stores in Tokyo and three prefectures (Tokyo, Kanagawa, Saitama, and Chiba).
The stores are mainly located in the Kanto region, so people traveling in the Kanto region should check to see if there is an Okay Shop nearby.
In the future, we are planning to open more stores in the Kansai region, so we hope that the number of stores will increase rapidly.
Summary
You will have a chance to go to Ginza as a visitor.
The supermarket is one of the interesting spots in Ginza area.
Pictures are bot taken at Ginza OK store. They are taken at other OK stores.